Protect Yourself & Your Identity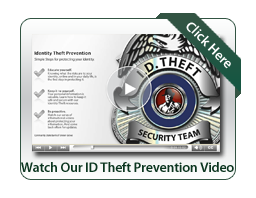 Identity fraud is among the fastest growing crimes in the country, affecting millions of people every year. The results can be financially and psychologically devastating to the victims.
Community State Bank and Deluxe are pleased to bring you Deluxe Provent®, an integrated suite of identity theft protection services that provides identity theft protection on all fronts, including: Prevention, Detection and Restoration.
ID Restoration Pro - Complete fraud support – online and off – when you need it most.
What will you do if fraud or identity theft strikes? With one out of three Americans becoming a victim of identity theft, comprehensive protection is a must. Address the full spectrum of fraud that threatens your personal information.

Internet Monitoring - Scanning black market chat rooms.
Daily scans for your credit and non-credit information in black market chat rooms that sell identifying information.

Credit Monitoring - Daily credit monitoring.
A daily scan of your credit report(s) and get notified when any changes appear in your credit file with 1 or 3 bureau credit monitoring. You can always have a constant eye on any changes to your credit.

Public Records Monitoring - Safeguarding your public information.
EZ Shield monitors public records databases and the three major credit bureaus for your personal information that may appear in court records, address or name change requests, sex offender registries and payday loan applications in connection with identity theft and fraud.


Enrollment is easy, just follow these simple steps:
Click on the "View Plans & Enroll" button below.
When registering, use Community State Bank Routing Number – 075907002

Follow the onscreen instructions to enroll. That is all there is to it!
Visit deluxeprovent.ezshield.com for FAQ & more information.