Positive Pay - Check Verification Security
---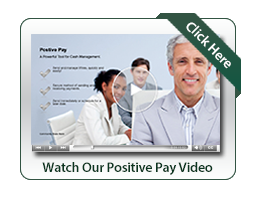 Positive Pay is a service from Community State Bank that helps protect your business from fraud, letting you easily detect counterfeit and fraudulent checks. With this service, you submit an electronic file detailing the checks your business issues.

When each check is presented for payment, the Positive Pay system electronically compares it to the information in your file. Any discrepancies are flagged and reported through a special email alert and reviewable through your eBusiness Banking service.

This double verification method helps protect customers against some of the most common check fraud schemes. This process helps to ensure the customer's records match the actual checks before issuing final payment, giving businesses a chance to intercept a fraudulently written check before it impacts their account.


Business Benefits
Fraud Prevention
Minimizes the potential of fraudulent check activity

Scans for paid checks that do not have a matching issue

Scans for fields that do not match the issue file

Scans for duplicate checks

Customers will receive an e-mail alert of unauthorized transactions

Customer can return unauthorized transaction


Easy-to-use
Use eBusiness Banking to import your check issue files or enter the data manually.

Suspect items are available by 7:00 a.m. CST.

Images of suspect items are available via eBusiness Banking.

Pay or no pay decisions must be completed by 11 a.m. CST.

Issued check information is updated to branch network on a real-time basis.


How Does it Work?
The entire Community State Bank branch network is part of Positive Pay's protection. Any checks presented to the teller in a branch are compared to your company's issued check file.


Company transmits list of issued checks to CSB.

CSB compares issued check information to presented items.

In the event of an exception the company is notified to verify check authenticity.

Company instructs CSB to pay or return unauthenticated items.

Getting Started
Positive Pay offers another level of protection for your business. To learn more, or to get started using Positive Pay from Community State Bank, please contact our Commercial Banking Department (262) 878-3763.




3 Powerful Tools to Protect Your Business